I'm in the midst of sorting some books with a view to rationalising their shelving, and have come across one I bought, probably in the late 1990s, possibly at the secondhand book shop in Broadford, probably in a hurry. The Ancient Church Orders by Arthur John MacLean (Cambridge University Press, 1910). As I recall, the text was not what I had expected and of little interest, but I remember none of the detail — in part because of a distraction it contained. Its previous owner had left within the most remarkable bookmark I have ever encountered.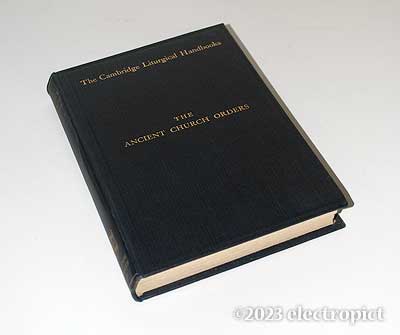 At some point in its life, probably when new, the book had been owned by one Reverend H.S. Sard (CoE), initially at Cuddesdon College, [1] and later at Upper Norwood, London, England. I doubt I am the first owner since; several decades may have elapsed in between. Rev. Sard had in 1942 (probably December) received [2] a letter from someone whom (it indicates) he had assisted financially towards what appears to have been a form of missionary endeavour in Barcelona. I had no idea that Anglican missionaries went to the Continent in the early 20th Century, even if — as seems likely in this instance — they went of their own accord. In fact I cannot say whether the writer was in any sense representative of contemporary Anglicans or their missionaries — or perhaps not an Anglican at all, but a denominationally unique phenomenon, though with some Anglican friends?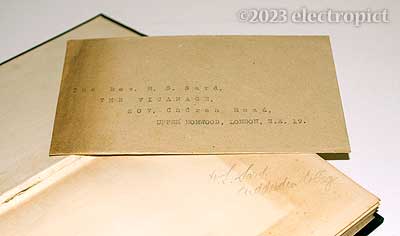 I assume Rev. Sard read it, and I cannot presume to guess his feelings regarding either the letter or the missionary — though this was one of a series of communications, so probably he was familiar with the style. He then returned it to its envelope and appears to have used it thereafter as a bookmark. (A habit which, as its later discoverer, I must heartily commend.) The picture shows where it appears to have spent time stuck out of a book at one end and become sun-scorched and perhaps a little smoke-stained. [3]