(There will be a stage 2, as I'm not currently in a position to do the whole refurb. No decent working space for soldering right now.)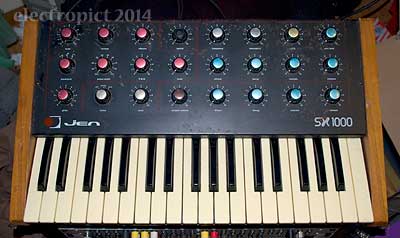 Jen#2 (not a "Jenny", thanks) is a newly-arrived Jen Synthetone SX 1000, s/n3326, later-type keyboard, with veneer ends, in moderately poor condition.
After unpacking & supply lead check — 13A plug fuse replaced with 2A here  
 — external condition and basic audio function were checked. Minor issues: some knobs are scratchy, some are loose. This should be resolvable, but will require checks at stage 2.
---
External Condition & Issues
[...]